Information for Partners and Visiting Exchange Students
Former Visiting Exchange Students to Miami

Photo of Eugene Khoo, former exchange student from Singapore, by a UM campus fountain
"Before I came to Miami I had pretty high expectations of how it would be, but my stay at UM turned out even better - it was really one of the best experiences in my life. I just wanted to thank you for helping me and answering all my questions before I left Germany and once I got to Miami."

quote from Julian Junghanel, former exchange student from Germany
The following international students attended the University of Miami (UM) on the exchange program during the 2002-2003 calendar year and have volunteered to receive email inquiries with questions about their experiences from other prospective exchange students. Please note that in order to be elligible to come to UM as an exchange student, you MUST ATTEND and be nominated by one of UM's international partner universities.
"Exchange is the most rewarding experience that you can gain from University. You learn more about yourself and life then you could ever learn from a book!" - Nick Stiles
Troy Roberts
exchange student from Edith Cowan University
Perth, Western Australia
music jazz performance major
"I had an amazing time at UM and it was definitely a life-changing experience for me and all my other international student friends. I will definitely get back to Miami, hopefully by 2005. Never before have I been made to feel so welcome. Thanks to the exchange program staff and my professors in the music school, Garry Keller, Whit Sidner, Jo Faulman, Ron Miller and everyone who made my experience what it was!"
Clare Edgar
Lancaster University, England, UK
Biology major
"Overall I had an amazing year abroad and have made my life long friends too. Being in America also allowed me to do some travelling over the holidays which was a big bonus!"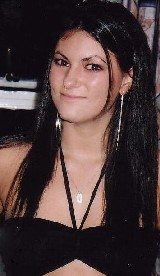 Accomodation: i lived on campus for the entire duration of my stay which suited me fine. It was expensive compared with the UK. The main thing i had to get used to was having a room mate and sharing the bathroom facilities with 44 other girls! I was fortunate enough to have a really great room mate and as well as getting on really well we were very good friends. There were many people however that weren't so lucky, but they were able to move fairly quickly so getting a bad room mate didn't mean you were stuck with them. I lived in Hecht college with all the freshmen, this was good for me as they were all new to the school to and so there were many activities run by the building and each floor to help everyone get to know one another. One thing i did find difficult about living on campus was the lack of independence they give you, having to sign into the building past certain times, having an residential assistant on everyfloor to watch over you, it was very different to the UK.
Classes: I found many of the classes in Miami easier compared with the work that my friends back home were doing in their second year. There was more reading to do than in the UK and the way of testing was very different. The classes i took based their final exams around mutiple choice and short answer questions whereas the UK is more eassay based. Also, most of the lecturers tend to be more relaxed in the UK compared with Miami. Being in Miami allowed me to take a variety of different courses i would not have been able to do in the UK, i took tropical plant biology and marine biology which with the lab allowed me to go out and actually see coral and the fish we were talking about.
Living in Miami: When i first got to Miami i could not believe the heat or the humidity! i ended up taking alot of the clothes i first brought with me home at christmas as it was too hot to wear them! I did get used to the heat though, i think having a pool was a big help! The beach wasn't too far, 20 mins by car, longer by metro and bus. Most Americans have cars so just befriend one of them, it'll come in useful! Sports was a very big part of all the Americans' life, this was somthing i was not used to as college sports in the UK is very unimportant. The football games were a good experience and i enjoyed going to the games too as my room mate was on the dance team so it was nice to watch her perform.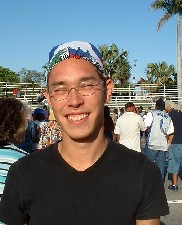 Julian Junghanel
exchange student
from University of Leipzig
Germany
"Send me an email if you want to know more. And don't miss the chance to go to Miami - I would go again if I could!"
Your preferred email address: julian.junghaenel@web.de. Email me for access to visit my personal web page with more photos.
What was it like living in the dorms?
I was living in the Holiday Inn for my first semester and then I moved to the Apartment Area. All I can say is that these are probably the best places to live on campus. Living in the Holiday Inn comes with all the amenities a hotel has to offer: they clean your room every day, bring new towels, most rooms have a nice balcony, there is a very ice pool as well as a gym and TVs in every room. The Holiday Inn is pretty close to the university, you either take the shuttle bus which runs about every five minutes or simply walk (about 10 minutes). Since there were only students living in two out of the three floors, it was almost like living a dorm. I met lots of people there, both international and American. Living in the Apartment Area was also great because we had a living room as well as a kitchen and nobody who checks your ID every time you get back after 10 pm (which is what they do in the real dorms). The only bad thing: We were six people in my apartment and we had to share a single bathroom - which means we had to wait from time to time. What was new to me was to share a room with someone else - but it was way easier than I thought, after a while I didn't really care any more. But if you're less fortunate than me, that is you don't get along with your roommate, it can be quite annoying, too.
How would you compare the classes at UM to your home university?
Well, classes are different compared to my universities in Germany: smaller class sizes, more exams. My impression is that compared to Germany more emphasis is put on knowledge and facts as opposed to a more discussion-oriented style of teaching. (But all I can say is about political science, which happens to be my major.) I heard some people saying that classes at UM are easier compared to their home university, others said they were harder - I thought it was more or less the same. But as probably everywhere, that depends what professers you have ... but that's another story.
Aspects of living in Miami that you liked and fun things that you did while in Miami
There are quite a lot of aspects of living I liked in Miami. First of all, there is the weather - I don't really get why so many people are living in cold regions of the world (including myself). Then there are the beaches including South Beach - which is also a great place at night. One of the best things I did was to join the Sailing Club - I went sailing every sunday and I never regreted getting up early. What else? Beach volleyball, parties, the Florida Keys, the Everglades, a coral reef, Mardi Gras, hanging out with lots of new friends ...
Miami as a bilingual/multicultural/international city
Yes, Miami is a multicultural city, it is definetly not a bad idea to learn some basic Spanish because there are many, many people from Latin America and some of them don't speak any English. I often found myself surrounded by people who preferred to speak Spanish. I was also very impressed to learn that there were students from no less then seventy different countries during the new-international-students-welcome-meeting--I don't think my home university can keep up with that. I always felt welcome and nobody looked askance at me because I wasn't American--at the university as well as elsewhere.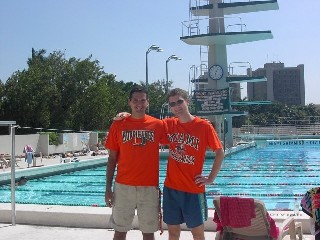 Jose Taboada
Exchange Student, 2002-2003
Universidad de Granada, Spain
computer science major
"I strongly recommend coming to study to UM . It is an unforgettable experience. Only one bad thing: be ready for the horrible reverse culture shock when you will be back to your country at the end of the semester!"
Preferred email address : josetaboadausa@yahoo.es
Also I have a lot of pictures of Miami in my webpage. Email me for access to that.
What was it like living in the dorms ?
I was living in Eaton which is probably the best place. My roommate was Ata from Turkey. We didn't have any problem and we could study without any problem and we had also a lot of fun. My resident assistant, Samantha, was amazing and she was always working for the best environment on my floor. When i had a problem i could go to the Front Desk and they always ask me to fix any problem. People in my floor were very kind, especially american people. I made a lot of friends on my floor. Laundry service was good and cheap. The overlooking from my room was beautiful and i could see the lake and palm trees. In the morning, i only needed to walk for 5 minutes to classes. I miss my friends and my time at dorms.
How would you compare the classes at UM to your home university ?
I like the system in USA. At my University, classes are really hard 'cause the grade depend on the final test even we are working hard the whole semester. At UM, there are a lot of different grades through the semester and the final grade depend on all of them. Also, you have more chance to succeed in UM than my school because the professor gives more clues about how is going to be the test and what chapters are more important. I am used to finding questions with trick at my University but exams usually at UM go directly to the point. Lectures at UM were short but well-explained and we had 2-3 classes a week. At my university, i had too many classes so i got tired a lot of times. Therefore, my school was really hard and my courses at UM were more real and accessible. Anyway, Classes at UM require a lot of working in homework, projects and other stuff every day.
Aspects of living in Miami that you liked
I loved the weather, the swimming pool, the dining-hall and meet my friends there (i could sometimes spend almost 4 hours talking to them !!) , Miami beach, the parties, the Miami shows and concerts, the classes, the volleyball games, the people walking around the campus, the campus so green and beautiful, the Wellness-Center, playing racquetball with my british friend James, the lounge to study on my floor, the cheap trips organized by the UM, the Grove, meet my friends to drink a beer at Friday's, the disco LEVEL, going every saturday to Key Biscayne, parties at Alex's apartment, play soccer front Standford ... and something really amazing, MIAMI HURRICANES !!!. I have to recognize that before coming to USA, i hated the american football but i love it after watching the UM team !!
Fun things that you did while in Miami
Too many !! But probably one of my favorite things was to play volleyball on Thursday at 8:00 o'clock and then going to the Grove with my friends !!
Miami as a bilingual/multicultural/international city
In my whole life i couldn't imagine to meet so many different people from so many different places. At the end of the semester i had american friends of course but i had also friends from Japan, Haiti, Cuba, Mexico, India, Norway, Germany, England, Italy, Turkey, Poland, Saudi Arabia, Israel, Kuwait, South Korea, Australia... I have met the whole world in Miami !!. Miami is one of the most cosmopolitan and ethnic cities in the world. If anyone wants to meet the world, she or he has to come to Miami !!.
Jose Taboada. Granada. Spain WEBSITE: http://www.josetaboada.com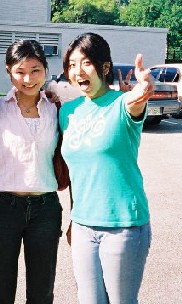 Yoko Nishimaki
exchange student 2002-03
from Sophia University
Tokyo, JAPAN
"I loved the nice weather the best in Miami... I had so much fun in Miami!!" Preferred email address: yokonishimaki@hotmail.com
What was it like living in the Apartment Area?
I lived in the Apartment Area on campus. I shared a living room, bathroom, and kitchen with four American girls. It was so much fun and pleasant to live in the Apartment Area. We could cook in our own kitchen, study with roommates at midnight and what is the best thing is that we can invite a bunch of people and have a party in there. I had never been lonely because there were always someone in my apartment. Compared to living in dorms, we had few chances to meet people, but I often went to my friend's friend's party(!?) and made friends there.
How would you compare the classes at UM to your home university ?
Classes at UM were so much harder than those at my home university. I had many exams and papers for each class at UM. And also I think American students study harder than Japanese students in general. That is because it is hard to get credits at American university, compared to my country. It was not easy for me to get used to the classes at UM, however, every professor was really kind and helped me understand the class well. I took 'Evolution of Jazz', and 'Psychology, Sociology, and History of Sexual Identity', and those were the most interesting classes at UM.
Aspects of living in Miami that you liked
I loved the nice weather the best in Miami. Even if I was depressed or frustrated so bad, a clear blue sky cheered me. and I liked the beautiful campus, where we can live close to nature. We could often see cute squirrels, birds, and a bunch of lizards on campus!
Fun things that you did while in Miami
I had so much fun in Miami!! Sometimes we went to South Beach which is a pretty popular place, other times we went to Crandon Park which is a quiet place. And also I really enjoyed having a crazy party with my friends every Friday and Saturday. What was the happiest thing in Miami is that I had a huge birthday party with a bunch of friends in April. I will never forget about this fun time. And also I liked to spend time helping American friends study Japanese. I had some friends who are interested in my country, and we used to hang out together. I sometimes cook Japanese food with my friends for them. It was really good chance for both of us to learn the cultural differences between Japan and America. I'm glad that I helped them know Japanese culture and they got to like Japan even better than before we met.
Miami as a bilingual/multicultural/international city
Definitely, Miami is the best place to learn both English and Spanish in America. I took Spanish class for two semesters and that was so much fun! There are so many people who came from various countries in Latin America, and they make the city of Miami more colorful (multicultural). Once we get out of campus, we can always hear people speak in Spanish and we can also enjoy having Latin American food everywhere! What is interesting is that there are few Asian (especially Japanese people) in Miami, which is really unusual in America. I think it made me enjoy living in totally different life from Japan, and it was a really precious time.
"Before I went to Miami I was kind of frightened because of leaving home for such a long time, leaving my friends and family... you know what I'm talking about. After I arrived and got over the first couple of days, I did not regret the decision of studying at UM a single time. When I think back now, I still have to admit that this was definitely the greatest semester ever! Besides the gorgeous campus and the nice climate in Florida, I really gained a lot for my studies; the programs and the teachers were simply excellent!"
If other former visiting international exchange students to the University of Miami would like to add their name, email, any comments, or a photo to this site, please email us.
"From the first day to last, Miami's fabulous weather kept me alive. This was my first time ever to live in the states, but for sure, the past year of memories at Miami will last forever in my life." - Sang Hoon Lee